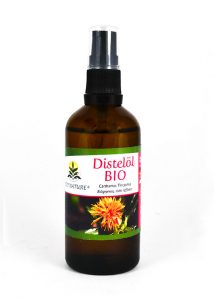 Safflower oil is a very unusual and exclusive oil. It has unique properties, that determine that the cosmetic is original and provides a wide variety of use. Many cosmetic brands use it willingly in their products due to its incredible rejuvenating, protecting and regenerating properties. Using safflower oil on hair will deeply regenerate it, nourish and moisturise even the most damaged and high porosity wisps. Safflower oil (also known as Carthamus tinctorius) works perfectly on dry, tired skin that lacks firmness and moisture. People who require anti-ageing prophylaxis – will also be fond of safflower oil. It works as a natural facial lifting means. Regular use of this natural oil improves the processes taking place inside the cells and firms the skin. Your face looks relaxed, refreshed and rejuvenated. 
Safflower oil from Bio Nature comes in a very handy bottle facilitated with an atomiser. It facilitates the use of the product; it can be sprayed all over our hair quick and easy and what is more important – evenly. What is more, the bottle is made of dar glass, thanks to which it will not go rancid too quickly, allowing us to use the whole 100 ml of the product.
The atomiser facilitates the application of the cosmetic, especially when it comes to hair. Why? You can easily spray it all over your strands and be sure that the light mist will not weight it down. Furthermore, applied on hair ends will protect them from splitting and make them resilient. The atomiser does not get stuck and sprays the mist evenly.  Safflower oil is rather efficient, however, you must remember that the more ways of use the product provides, the faster it runs out.
What is more, safflower oil has another unique property: applied after hair removal, makes it grow slower and makes sure your skin is not irritated or dry. Additionally, it absorbs very quickly without leaving any greasy coat either on hair or skin. In the case of extremely dry face skin it can be used during your evening routine, preferably prior to applying your facial cream.